about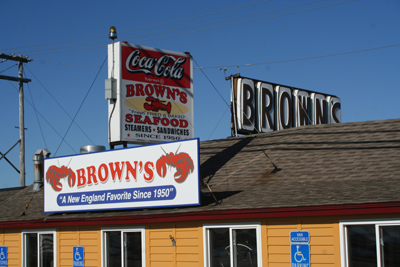 In 1947 my father Hollis I. Brown and his good friend Louis F. Violette both of Seabrook, NH had been laid off from their respective jobs and went into business hauling lobsters out of Maine and selling them to markets throughout the Merrimack Valley.
In 1948 they opened a lobster pound on Rte.1 in Hampton, NH by the Taylor River and ran that for two years. In 1950 they left there and opened at the present location at 407 Rte. 286 Seabrook where the saltier water was better for the lobsters. They just sold lobsters and clams alive or cooked and lobster meat.
In the Spring of 1952 they opened a lunch bar serving fried seafood, lobster rolls, steamed clams, and sandwiches. They had an addition on the west side over the water, where patrons could eat.
Customers could pick out their own lobsters from the tanks, have them cooked and cracked and served with drawn butter and then eat them over the water as my father had seen at a similar place at Pemaquid, Maine.
In 1957 Louis Violette wanted to buy a lunch bar in Salisbury, MA so my father bought him out and became the sole owner. In the years that followed, other additions were made until it reached the size that Browns is today.
My Mother Viola Brown worked alongside my Father until they retired in 1972 and I took over the business. I began working Summers when they first opened in 1950 and full time after high school in 1955. I met my wife Cynthia Marston who worked for us in 1957 and we were married in 1958. We have three fine sons; Robert, Norman, and Bruce II. Robert and Bruce work at Browns and will someday take over the business. Norman has his own engineering business. Four grandchildren; Kaleb, Ashley, Brittany, and Chloe Brown are the fourth generation to work at Browns, which gives meaning to a family owned and operated business that has been a New England favorite since 1950. Our reputation is your guarantee.
Sincerely,
Bruce G. Brown